Description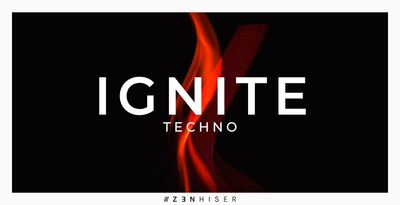 A crucial pack from the word go, 'Ignite – Techno' focuses on the essentials with unique style and flair. Glazed in Techno magic this sample pack is the perfect addition to your Techno sample collection. Within the facade of these Techno walls you'll find everything from precise drum sounds to explorative stems. A notable and well needed addition is the vocals.
Recorded exclusively for 'Ignite – Techno' and utilising both female and male vocals we think the price of this pack is worth it just for the vocals alone. It's not packed full with every saying under the sun but instead it focuses on quality not quantity. Typically, spoken vocals are hard to find in Techno packs, especially male and female so these mood creating sayings and phrases will transcend your productions and future musical masterpieces.
All bases really have been covered here with pristine drum sounds, a broad spectrum of totally useable one shots, ready to drop beats, basslines, synth loops, vocals and midi, plus 55 new contemporary stem concepts. This ensures you'll have what you need on tap. It delves deep into the various sub genres of Techno with special emphasis on Raw Techno, Peak Techno and the Progressive sound. Think along the lines of labels like Drumcode, Terminal M, Octopus Recordings and Crosstown Rebels to get a taste of where this pack is headed. So if you need the building blocks for your next Techno hit, with the security of knowing Zenhiser has been featured in Techno tracks for over 15 years then this collection is rightly for you.
Any references to any brands on this site/page, including reference to brands and instruments, are provided for description purposes only. For example references to instrument brands are provided to describe the sound of the instrument and/or the instrument used in the sample. Loopmasters do not have (nor do they claim) any association with or endorsement by these brands. Any goodwill attached to those brands rest with the brand owner. Loopmasters or its Suppliers do not accept any liability in relation to the content of the sample or the accuracy of the description. "RHODES" is a registered trademark of Joseph A Brandstetter.
523 Total Samples

42 Total Midi

3.2GB Zip Size

05 Song Starters Stems

05 Kick Drum Hits

05 Snare Drum Hits

10 Hi Hat (Closed) Drum Hits

10 Hi Hat (Open) Drum Hits

10 Shaker Drum Hits

10 Crash Drum Hits

10 Ride Drum Hits

09 Rimshot Drum Hits

20 Percussion Drum Hits

10 Tambourine Drum Hits

25 Bassline Loops

75 Drum Loops

25 Full Mixes

37 Midi Loops

144 Synth & Instrument Loops

25 Bass One Shots

20 FX One Shots

20 FX Perc One Shots

10 Misc One Shots

25 Synth One Shots
46.61