Description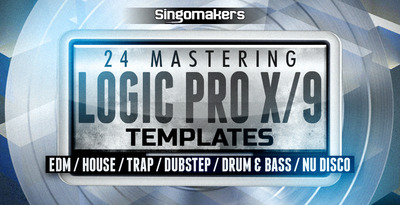 Singomakes are proud to present this new collection of Mastering Templates/Projects for Logic Pro 9/X.
24 Mastering templates for 6 genres: EDM, Dubstep, Trap, House & Garage, Nu Disco & Nu Rave and Drum & Bass. 24 separate projects: 6 Templates with internal plugins of Logic Pro 9/X, 6 templates with Waves plugins only, 6 templates with iZotope Ozone 5 plugins and 6 projects with various mastering plugins from different companies such as SPL, Waves, Apple Logic, iZotope Ozone and more!
Each Template contains a Logic Pro file, which is suitable for Logic Pro 9 and Logic Pro X, containing an example demo song routed through a dedicated Channel Strip containing all the necessary EQ, Compression, Saturation, Maximization and FX settings that can be used on your own productions as a final Master Tool.
The final polish and mastering of your tracks is a very important stage to get that perfect finished Sound and each genre has its own technical requirements, and examples of these settings are included in the templates.  Each Mastering Template is also available to purchase separately.
Don't miss this great collection of mastering templates from Singomakers!
Please Note: Tracks presented in this pack included for demonstration only, sharing or any commercial use of this tracks is not allowed.
To use these Templates you will need Logic Pro 9 or Logic Pro X.
In several templates you may need iZotope Ozone 5, Waves Plugins or SPL plugins and for the Bonus Template you will need A.O.M. Limiter, Fabfilter Saturn, PSP VW2 and PSP Stereo Enchancer
Any references to any brands on this site/page, including reference to brands and instruments, are provided for description purposes only. For example references to instrument brands are provided to describe the sound of the instrument and/or the instrument used in the sample. Loopmasters do not have (nor do they claim) any association with or endorsement by these brands. Any goodwill attached to those brands rest with the brand owner. Loopmasters or its Suppliers do not accept any liability in relation to the content of the sample or the accuracy of the description. "RHODES" is a registered trademark of Joseph A Brandstetter.
Logic Pro 9 or Logic Pro X Project Templates
24 Mastering templates for 6 genres:
EDM

Dubstep

Trap

House & Garage

Nu Disco & Nu Rave

Drum & Bass
24 separate projects:
6 Templates with internal plugins of Logic Pro 9/X,

6 templates with Waves plugins only,

6 templates with iZotope Ozone

5 plugins and 6 projects with various mastering plugins from different companies such as SPL, Waves, Apple Logic, iZotope Ozone and more!

Bonus Template you will need A.O.M. Limiter, Fabfilter Saturn, PSP VW2 and PSP Stereo Enchancer
11.67