Description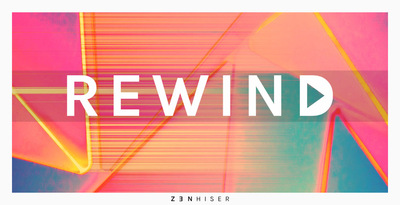 Introducing an unbelievable collection of sounds from the 80's, "Rewind" explores a decade that churned out hit after hit, whilst creating Synthwave, Retrowave and Chillwave. With an underlying love for the 80's here at Zenhiser our knees shook when we heard the amount of intricate melodies, loops and one shots this sample pack offered. It really is a sample pack of whopping range and scope.
Within the collection of epic 80's samples you'll find analogue synth workouts, chunky basslines, drum machine fuelled beats, analogue one shots, legendary midi and interstellar fx. Reminiscent of pioneers including Jean Michel Jarre, Gary Numan, Vangelis, Phil Collins and John Carpenter, this treasure trove takes elements from our favourite decade and combines them with influences of today's artists including Perturbator, Timecop1983, Anoraak & Kavinsky. This cacophony of styles delivers something for every 80's inspired producer, whether you're motivated by 1980's soundtracks, video games, pop music or shoe gazing.  "Rewind" is an awakening for new producers and stimulation for originators of the 80's.
Any references to any brands on this site/page, including reference to brands and instruments, are provided for description purposes only. For example references to instrument brands are provided to describe the sound of the instrument and/or the instrument used in the sample. Loopmasters do not have (nor do they claim) any association with or endorsement by these brands. Any goodwill attached to those brands rest with the brand owner. Loopmasters or its Suppliers do not accept any liability in relation to the content of the sample or the accuracy of the description. "RHODES" is a registered trademark of Joseph A Brandstetter.
3.4GB

Total Samples – 777

Total Midi – 50

25 Kicks

15 Snares

25 Toms

35 Percussion

66 Bassline Loops

150 Drum Beat Loops

50 Full Mix

306 Synth & Instrument Loops

50 Midi

12 Bass Hits

38 Chrod Hits

06 FX

24 Pads Hits

24 Synth Hits